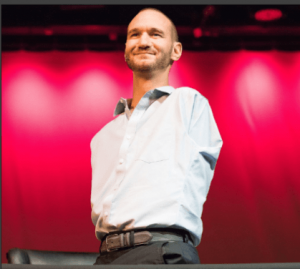 Success doesn't occur in a vacuum. No matter how motivated we are, or how solid our plan is… we can always learn and find inspiration from others.
"Do, or do not… there is no try"
– Yoda
Here are 15 people who "do". I'm not sure the word "try" even exists in their vocabulary. They are clear about the life they want and the lengths they will go to achieve it.
Of course, there are countless people and inspirational stories. From historical figures and authors to modern-day CEO's, athletes and spiritual leaders. We could fill bookshelves.
But for now, here are 15 (in no particular order) who show us that chasing our dreams is not only possible but worth it.
Gary Vaynerchuk
In addition to being CEO of VaynerMedia, Gary is an entrepreneur, investor, and public speaker. His personality is larger than life, and his energy is absolutely contagious.
Growing up, Gary worked the cash register at his parent's liquor store. During his college years, he rebranded the store as Wine Library and over five years took the family business from 3 million to 65 million.
This led Gary to start Wine Library TV that began a journey that many have called an overnight success. But it was anything but an overnight success… and anyone who wants to build a life they truly love needs to hear Gary's message.
https://www.garyvaynerchuk.com/
Peter Diamandis
Where to begin with the accomplishments of Peter Diamandis?
"Do something that is larger than yourself" is his motto and few have lived up to those words as well as Peter.
In addition to being an author and public speaker, Peter is the founder and chairman of the X Prize Foundation and Co-Founder and Executive Chairman of Singularity University. If that's not enough, he is also,
Co-Founder of Space Adventures and Zero-Gravity Corporation,
Co-Founder and Vice-Chairman of Human Longevity Inc. (a company committed to extending human life span), and,
Co-Founder/Co-Chairman of Planetary Resources, which designs spacecraft for the detection and prospecting of precious materials in asteroids.
As an aspiring astronaut growing up, Peter thought his best chance to get into space would be a private spacecraft. He came up with the idea of offering a 10 million dollar prize to anyone who could launch a reusable manned spacecraft into space twice within two weeks.
The thing is, Peter didn't have 10 million dollars. He struggled with small donations to reach $500,000 when his fundraising stalled. But that didn't stop him.
Standing under the Arch in St. Louis with 20 astronauts, the head of Nasa and the head of the FAA… Peter announced the 10 million dollar prize anyway.
Peter challenges us to take a second look at what we think is possible, for ourselves and humanity. His ambition is larger than life, and you can't help but be inspired by his impact on the world.
Among Peter's many goals, are to extend our life expectancy and mine asteroids for precious materials.
To find out how the 10 million dollar prize turned out, hear Peter tell his story in this video.
John David Glaude (Obese to Beast)
Choosing to live BIG doesn't have to be about extending human longevity and mining asteroids. More often than not it's the battles we fight within ourselves.
We all have personal challenges that limit our progress and set us back at times. It's pushing through those challenges and exposing ourselves to failure that makes the difference and allows us to build a life we love.
Meet John David Glaude, known to his 250,000 YouTube subscribers as Obese to Beast. John made a decision to one day change his life and in the process lost 180 lbs, became an online celebrity and has even appeared on Ellen.
What's most impressive however is not that he's changed is own life (although what he's accomplished is exceptionally impressive), it's that his vulnerability and his story is inspiring thousands of others to change their lives too.
I highly recommend you follow his channel on YouTube, and I'm confident he'll inspire you as he has me.
With nearly 10 million views you may have seen this video of John and his story. With this level of inspiration to improve himself and face his toughest challenges, there's no way he can live a life that's anything but extraordinary.
https://www.facebook.com/obesetobeastfitness/
Jenny Blake
As co-founder of Google's career development and mentorship program, most would already consider Jenny a success. But for her, success had a different definition.
"I wasn't happy at Google. What's wrong with me? This is a dream company." said Jenny on the podcast Unemployable
Like many other "apparent" successes, it's not always what it seems.
Today Jenny is an international speaker, executive coach, career and business strategist as well best-selling author of the book Life After College.
With her current book, Pivot – The Only Move That Matters Is Your Next One, she is helping others find the life they want.
Pivot with Jenny Blake — Jenny Blake (pivotmethod.com)
Tom Shadyac
You may or may not know of Tom Shadyac, but you've definitely seen or heard of his movies.
Tom is one of Hollywood's biggest comedy directors who's films have grossed almost 2 billion. He is responsible for hits such as Ace Venture, The Nutty Professor, Liar Liar and Bruce Almighty. He's also an actor, screenwriter, and stand-up comedian.
But… none of those achievements are what enabled Tom to "really live".
Despite his 17,000 sq ft mansion, staff, private jets and a Hollywood A-List reputation, Tom was unhappy. Success gave him a unique perspective. One that taught him that what we crave in life isn't always what we think it is.
For Tom, a life well lived is so much more than "stuff".
Tom sold his house, moved to a mobile home community and chose fulfillment over achievement.
Pat Flynn
In the midst of the 2008 economic downturn, Pat Flynn found himself out of work.
With an architectural degree, Pat took his knowledge of building design and created GreenExamAcademy.com. It was (and still is) a site that helps architects study for the Leadership in Energy and Environmental Design (LEED) exam.
After establishing an online income, Pat wanted to share is story and knowledge with other aspiring entrepreneurs. He created the Smart Passive Income (SPI) blog and podcast.
With a 150,000 SPI community members and 22 million downloads of his podcast, Pat has become the go-to resource in the online entrepreneurial world for both knowledge and inspiration.
Despite an income that now exceeds six figures per month, it's Pat's down-to-earth personality and transparency that help him stand out in the community of great online mentors and entrepreneurs.
Among Pat's many insights are his guiding principles,
The best and worst things in life are usually the things that happen unplanned.
Whether success or failure, I want the satisfaction of knowing my results are my own.
The right path is the one you make yourself that leads to your version of happiness.
Kimra luna (Freedom Hacker)
Like Pat Flynn, Kimra and her husband were hit by the economic challenges in 2008. However, it took them longer to recover. Years later she was still living at her in-laws with her husband and two sons.
Finances improved when her husband found work away from home, but still living paycheck to paycheck Kimra supplemented through online business. It was what she learned in the process that ultimately brought her success, not the business itself.
She began sharing this knowledge online and helping others build their business. In 2014 she decided to package that knowledge and teach it using webinars. From May of that year through February of 2015 her overall revenue had reached 750K.
What's great about Luna's story (other than it's obvious inspiration) is it shows how valuable the process is. Results are important, but so is what we learn along the way (maybe more important).
If you're currently struggling to reach your goal, whether it's success in business or that magic number on the bathroom scale… it's the things you're learning along the way that will ultimately become your greatest asset.
The Cosmic Connection Coven (Kimra Luna)
Robin Sharma
I first discovered Robin Sharma about 15 – 20 years ago when browsing books at Costco of all places. I bought his book The Greatness Guide, and I've been a fan ever since.
Robin Sharma is a giant in the personal development world. With 15 books that have sold over 10 million copies, he's come a long way since leaving his career as a litigation lawyer,
"I'd wake up in the morning, and look at the person in the mirror who was successful on the outside but not fulfilled on the inside," said Robin.
That feeling of not being satisfied lead him to write what is now a best seller, The Monk Who Sold His Ferrari. He founded Sharma Leadership International which has clients such as Starbucks, Coke, Nike and Microsoft and he's also been voted by Speaking.com as one of the top 5 speakers in the world.
Robin's story is a good reminder that having a successful career doesn't mean you can't pursue a different life. We are only here once and our time is limited. If you're not fulfilled, it's okay to go after your dreams.
If you're feeling STUCK on your current path, you may find Robin's message here helpful.
Robin Sharma | Official Website
Amy Porterfield
Amy nails it in the opening paragraph of her About Page.
"We're both trying to make a life we love out of what we do".
What could be better than living a life you love doing the things you enjoy? It's not always about money. Amy once worked for Tony Robbins as director of content development, but she points out that she was still working for someone else.
As she says it in her bio… "she burned her boats" and started her own business.
Today she has her own podcast "Online Marketing Made Easy w/Amy Porterfield" and hosts webinars that teach small business owners how to get results from social media. She is also the co-author of "Facebook for Dummies".
Amy Porterfield | Online Marketing Expert
Michael Hyatt
Like Robin Sharma and Jenny Blake, Michael had already achieved success. He left his career as Chairman and CEO of Thomas Nelson Publishers to pursue his passion.
As many know, success in something you have no interest in (or worse, don't like at all), is its own burden. How do you explain your discontent to your family? How do you justify the risk in trying something new?
Today Michael is a speaker, best-selling author and founder of Platform University. He's been featured in publications such as Entrepreneur Magazine and Forbes. His blog gets 500,000 unique visitors every month and his podcast, This is Your Life has been downloaded 300,000 times.
He is another great example of someone who said NO to a life he didn't want. While being a Chairman and CEO may seem like achievement enough for most of us, Michael chose the life he wanted instead.
Win at Work and Succeed at Life | Michael Hyatt
Brandon Gaille
Brandon Gaille is a blogger and podcaster who overcame a disabling brain tumor to make sure he was there to help his pregnant wife battle cancer.
How many of us let life's challenges get us down, and even give up completely at times? Brandon shows us, the life you want is worth fighting for.
He had chased after (and found) success earlier in his life, but challenges with his health took it all away and left him in debt. But that wasn't enough. During his difficult battle to regain the life he lost, his wife (then pregnant) was diagnosed with stage 3 cancer.
Today Brandon has built a blog that gets 2 million visitors every month and a consulting business with clients that pay up to $100,000 for his expertise. In addition, his podcast is downloaded 1000 times every day.
The lesson here is that you can find a dozen reasons to give up (or NOT do something), but you only need one reason to keep going.
Brandon found his reason and crushed his excuses. His story is incredibly inspiring and a reminder that you can fight for the life you want too. You can read his full story on his website and I highly recommend his podcast and The Blog Millionaire Blogging Course.
Tracy DiNuzio
How hard are you willing to work for something you really want? For Tracy, it meant 18 hour days (half of that learning how to run her business) and renting out her bedroom while sleeping on her couch.
Tracy is the founder of Tradesy, a buy and sell marketplace for fashion. Starting alone from her kitchen, Tradesy is now a multimillion dollar operation with 22 people.
Tracy's story is simply one of hard work and desire. So many people aren't willing to sacrifice time or money for what they really want. Tracy gave up her bedroom just to keep the lights on.
While her story is one of sacrifice and success… sacrifice is never a guarantee. But, those that give it everything (and give up most things) and still come up short will have acquired a wealth of knowledge along the way. That knowledge and experience will be the foundation of their next endeavor… and they won't regret of not doing.
https://www.tradesy.com/about/
Chris Hadfield
At 9 years old Chris Hadfield knew he wanted to go into space. As a Canadian during the Apollo moon landing era, it was an impossible dream. There were no Canadians in space.
But, he knew what he wanted in life and from an early age set out to achieve his goal.
"There was no program I could enroll in, no manual I could read, no one to even ask. There was only one option, I decided. I had to imagine what an astronaut might do if he were 9 years old, then do the exact same thing. I could get started immediately. Would an astronaut eat his vegetables or have potato chips instead? Sleep in late or get up early to read a book?"
In his book An Astronauts Guide to Life on Earth Chris takes us on the journey, from 9 years old to becoming the first Canadian Commander of the International Space Station. Along the way, he became a US Navy test pilot, the Director of NASA Operations in Russia and Chief of Robotics at Johnson Space Center.
The lesson we can learn from Chris is that it doesn't matter if the life we want seems impossibly far, or if we have no idea how to get there. We can start today. Success and achievement don't happen overnight. As a wise 9 year old Chris said, sometimes the only option is to start by getting up early and reading a book.
Official Chris Hadfield | First Canadian astronaut to walk in space
Elon Musk
As mentioned earlier, there are countless people who inspire us. Choosing the life you want can mean everything from starting your own company, to giving up everything to live in a tiny house or learning how to cook.
For Elon Musk that means changing the entire course of humanity.
As the founder and CEO of both Tesla and Space X… Elon's life and impact are so large, they have their own gravitational field. His ability to dream big and execute may be humbling, but it's also inspiring. He proves what our true potential really is.
How many kids have aspirations of saving the world from extinction by colonizing another planet… and then growing up and starting their own rocket company?
That's how Elon's mind works.
Decades later after chasing that goal relentlessly, Elon may be closer than anyone (including Nasa) to putting us on another world. His goals are so big that his friends and family held interventions to stop him. And yet today, Nasa hires Space X to fly missions to the International Space Station.
But that wasn't enough for Elon. He took on two industries when he started Tesla, that even the world's most ambitious don't dare challenge… the American Automotive Industry and Big Oil & Gas.
"I always have optimism, but I'm realistic. It was not with the expectation of great success that I started Tesla or SpaceX… It's just that I thought they were important enough to do anyway." Elon said.
"What I'm trying to do is take whatever action I can to ensure that the future is good," he told the BBC. "At the beginning, I thought Tesla and SpaceX maybe had a 10 percent chance at success," adding that he was pleasantly surprised at how well his companies had done.
Nick Vujicic
If there's anyone on the planet who takes our excuses away, it's Nick Vujicic… the author of Life without Limits.
Nick was born without limbs, and yet he still lives a life a bigger than most. His message is, "Find your life's purpose despite whatever difficulties or seemingly impossible odds stand in your way". Having done that himself despite his incredible challenges, his story should shout loudly to all of us who think we are either incapable or undeserving of an extraordinary life.
Today Nick is a motivational speaker and the director of the nonprofit organization Life Without Limbs. If you haven't seen his video before, you need to see it now.
Final Thoughts…
Obviously, these are people with big personalities, who don't mind speaking in front of an audience. But living the life of your dreams doesn't mean you need the charisma of Oprah or Arnold. There are "Mompreneurs" who may be living in your neighborhood… or someone into custom cars who just opened up a shop tinting windows and painting wheels.
We don't need GIGANTIC changes to build a life we love. More often than not it's the small and manageable things we do every day towards a larger goal. Maybe your first step is deciding what that goal is.
What kind of life do you want to live? More importantly, will you one day regret not living it?
---
Please leave a comment below, I'd love to hear your thoughts. Who has inspired you recently?
If you found this article useful, or think it might be helpful for others… Please share 😀
Cheers,
Jay