Wouldn't it be nice to make money from home, have more freedom, more time and independence?
It all sounds so good. The digital entrepreneur lifestyle appeals to just about everyone, which is why the make money online (MMO) industry is flooded with scams, and people who sell inferior products and programs that don't deliver.
With a little bit of research and some knowledge, it gets easier to separate the lies from the truth.
What Are Make Money Online Scams?
---
Defining what a scam is… isn't always easy.
Wikipedia describes it as an attempt to defraud someone by first gaining their confidence.
But, by that definition, you could argue that every fast food restaurant scams us by putting up false pictures of big juicy burgers… when really, what they sell is a bun with condiments, and an embarassingly small piece of meat buried in there somewhere.
So, what makes a scam a scam, isn't so clear.
There are flat-out scams. The ones that take your money and run, or get you to install malicious software.
And then there are the semi-scams. The ones that provide some value, but fall far short of their promise. Or, they give you something up front, only to pull you further into their money-sucking funnel.
In the make-money-online industry, a common tactic is selling products that only give you one piece to the puzzle. Sometimes it's because that's the only piece the seller knows, and other times it's because they're leaving a trail of crumbs that just leads to more spending.
And then there's the bait and switch.
For example, I recently reviewed a course that taught you how to rank your videos in the #1 spot on YouTube. No one can make that promise, and if by chance, someone stumbles upon a simple "trick" that does work , they're not going to share it publicly… and the trick won't last for long as search engines have gotten good at fixing these glitches.
Sure enough, after going through several tutorials, the person teaching the course said, "This probably isn't going to work for high and medium competition videos, but it should work for low competition ones."
In other words, the course did not deliver on what it promised. However, there was some really good information in the course and the person clearly went through a lot of effort to create it.
So, was it a scam? Unfortunately, even though the course provided some good value, a deceptive 'hook' was used to sell it. Some might call that a scam.
How To Spot Make Money Online Scams?
---
The following 12 tips (or identifiers to watch for) might seem obvious to some, but that's not always enough to stop us from making poor decisions, especially when it comes to money.
Most of us have seen these "red flags" before, and know better. But, emotions and the hope that something works, can still get the best of us.
The promise of a better life is so appealing that online money making scams still catch people who should (and probably do) know better.
So, how do we spot these scams?
Before we get started, while most of these indicators are a good sign that something deceptive is going on, they are not a guarantee. If something still looks like it might have value, it's worth it to do further research.
Every once in awhile, even legit products and programs fall into what may be considered deceptive marketing tactics. Just like the big juicy burger pictures.
1. Within Minutes, You'll Be Making Money
---
The most obvious 'tell' that you've found a scam is the get-rich-quick promise.
Making money online just doesn't work like that.
Some of these scams are so blatant that they claim you can get rich with a simple 3-step process. While many real programs simplify their process by breaking it down into steps, the implication is not quite the same.
Here's a good example of a scam . There's only 3 steps here; Step 1 is to "set up an account and log in"…
Step 3 is "deposit money in your bank account". So, what is step 2?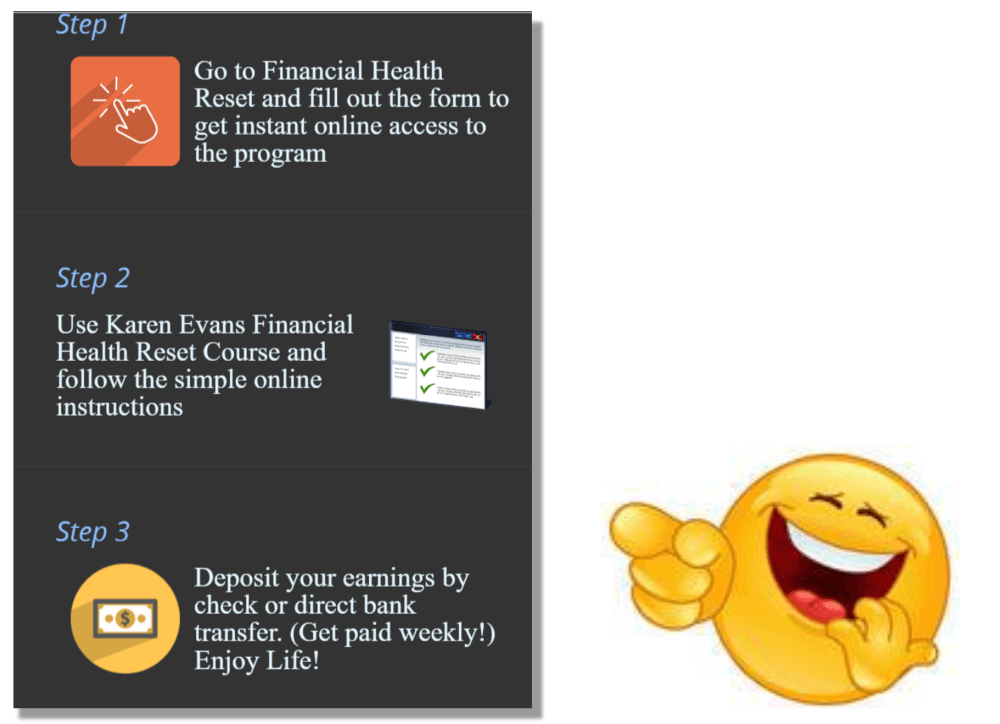 That's all you have to do. Just use the course, deposit your money and enjoy life.
You can't make this stuff up. (well… someone did)
A Get Rich Quick Analysis
---
Let's look at this from a different perspective.
Some of these programs claim you can make $10 or $20 for just a few minutes work. If you do the math, that's hundreds of dollars an hour.
I'm not saying it's impossible to earn that kind of money, but if you knew a guaranteed method to make hundreds an hour, that was so easy anyone could do it, what would you do with that information?
You could create a course and sell it, but…
If it was absolutely guaranteed (like putting 10 bucks into a machine that spits out twenties guaranteed)… I'll tell you what a business minded would do.
They'd hire someone (or a few dozen people) to do the work for them, pay them by the hour, fill their bank accounts with the money left over, and retire somewhere warm.
The reason THEY don't that, is because it's not that easy, and it's not guaranteed.
2. They Don't Tell You What You Will Be Doing
---
If you're like me, you don't put your debit or credit cards into a machine without knowing exactly what you're paying for.
The same rule applies when buying something online.
However, many of these scams don't play that way. They ask for your money up front. You will be shown a sales page, but the real "secret" is only revealed AFTER you pay for it.
The truth is, there is no "secret".
Making money online is like anything else. It's a process, it requires work and you have to learn how to do it.
No one is selling the "secret" to fixing cars. Or, the "secret" to playing a piano.
They are all just skills that require knowledge, training, and practice.
And, if you were to check out a school that teaches auto mechanics, or piano lessons, you would not be sent to a sales page with a "buy now" button.
What you would likely see is course description outlining everything you will learn, a schedule, and maybe even the course objectives and outcomes.
A legitimate make-money-online program will usually explain, in at least some detail, what they teach and what you will be doing.
3. Watch For The $1 Trial and Money Back Guarantee
---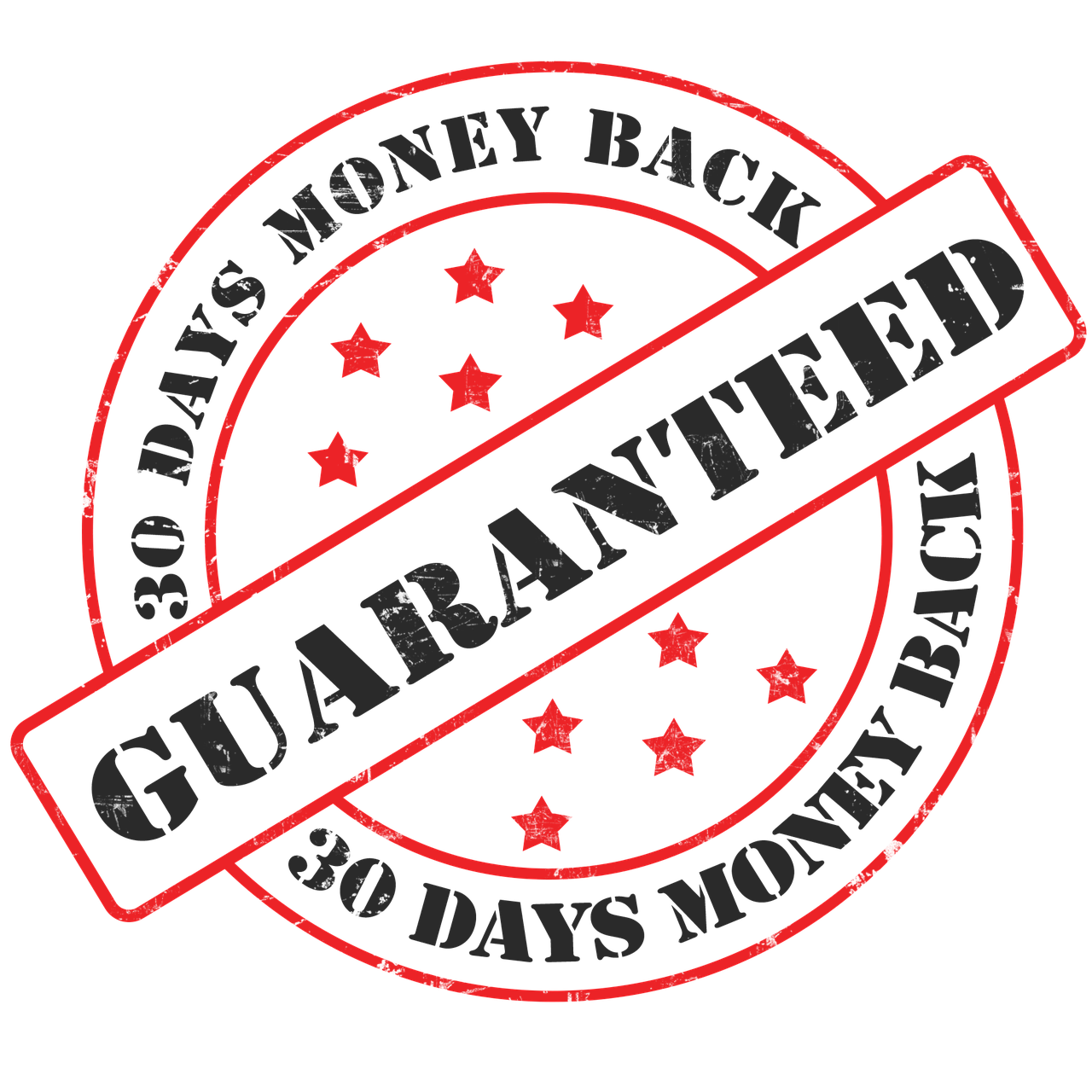 While it's not a sure-fire indicator of a scam, the $1 trial is simply a way to get your credit card. Not necessarily for fraudulent purposes, but to identify YOU as a buyer. (and disqualify those that are not)
When your credit card comes out (even for $1), you are identified as a "buyer with intent".
There's nothing wrong with that, and it doesn't mean you're being scammed. But it's something to be aware of.
Car dealers use this method all the time, to determine if you're a potential buyer. They ask for a small deposit, and even though it's refundable, it demonstrates a level of intent and commitment.
I certainly don't want to discourage you from purchasing products that have a discounted (or free) trial and/or money back guarantee. Many of the good ones offer them both. But it's important to be extra cautious if they're asking for your credit card.
4. Be Careful Of The Automatic Renewal
---
Membership sites and subscription based products that come with a discounted trial, usually have an automatic renewal policy.
Before you sign up, it's best to do some research. You are providing them with sensitive account information. therefore it's critical to make sure they're payment system is safe and secure?
Contact support and find out what their cancellation policy and procedure is. Do they require 30 days in advance to cancel?
A scam like this can operate and make money, even with 100% cancellations. If they're billing everyone that joins for just the first 30 days before they cancel, they're making a fortune. Some people will fight for their original investment back, but many will be happy to just cancel the subscription and take the first month as a loss.
And although they may offer a "money-back" guarantee, but if it's just a flat-out scam to begin with, it will be difficult (if not impossible) to get a refund. Research their procedure ahead of time and establish a line of communication with them.
Another semi-scam here, is when you purchase a product thinking it's a one-time payment, but it turns out to be monthly recurring. They don't always tell you this when you sign-up. I've had to ask for refunds before as a result of this scam.
5. No Contact Information
---
If they don't have a legitimate way to get in touch, take that as a big red flag.
You may stumble onto a program that claims to pay 6 (and even 7-figures) to its members, but their only method of communication is an obscure email?
Legitimate companies, especially ones that deal in these dollar amounts, will have information about who owns the company, who manages it and so on.
They will usually have a "CONTACT" form or the ability to submit a support ticket.
When spending a considerable amount of money (as many of these programs require), you should be able to contact help and support before you buy.
Send them a message, ask a question about the program, and see if there is someone on the other end before you transfer funds and sign up.
Also, look for a legitimate 'About Us' page.
For an example of a program that considers your confidence a priority, check out one of my top recommended programs, Wealthy Affiliate. When you scroll down and move through the tabs at the top of the page, you will find contact information, an about section and detailed information about what they teach.
6. Are You Buying a Product, Or A Lifestyle?
---
Like the get-rich-quick scam, this is one of the easiest ways to spot a rip-off.
Does their sales video, free webinar or even free membership, spend more time telling you about how they live. Usually these will start out with a little "about me" introduction that turns out to be half (or more) of the presentation. You will be told a rags to riches story, probably shown pictures of family vacations, and luxury retreats.
The videos and pictures at home will probably include an exotic car in the driveway, a huge estate home in the background. I've even watched webinars where a significant amount of cash is just sitting on a desk in the background, as if it's just normal. So much money they can't fit it into a pocket, a wallet or the bank.
These aren't "training" videos, they're are lifestyle videos with just enough actual information thrown in to get you interested.
The truth is, most people that earn an income online are not living extravagant lifestyles. And… the ones that are, don't flaunt it.
A "luxury lifestyle" is possible. However, most who attain it hustle and work hard for it. They provide exceptional value to their audience or clients, and have committed long hours (sometimes years before seeing significant results) to get there.
And… there a some that have made a fortune by ripping people off.
But generally, people who make money online are just like you. They live a regular home, drive a normal car, get up in the morning and sit down at a desk…
If a product or program has a sales page covered in dollar signs, yachts, mansions and sports cars… it's not for certain it's a scam, but definitely proceed with caution.
I understand the temptation. In fact, I've wasted money on these scams before, but more often than not, they are all promise, and no substance.
7. The Self-Promoting Sales Funnel
---
If you've been looking for ways to make money online, you may have seen this scheme a few times. You may have already lost some money to it.
As mentioned with the other things to look out for, every product and program that has a self-promoting sales funnel is not guaranteed to be shady. There are some legitimate ones with some good training.
But there are few key things to watch out for. Mainly… do they want you to buy traffic to sell their program.
The way this scam works, is that (almost) from the word "go", they tell you they have a "made-for-you", or "done-for-you" sales funnel. They may also call it a marketing funnel… and it's usually "proven" to work.
Their done-for-you funnel is a apparently a complete "machine" that sells their program. There will usually be landing or squeeze pages, a sales page and/or sales video, and a series of emails for you to send out.
All you have to do is buy the marketing tools, such as an email autoresponder, and then send traffic to their sales page.
Unfortunately, getting the traffic is the most difficult, and expensive part (that's why they want you to do it).
If it was so simple, they would not need you to do it. The reason they do, however, is because the primary method of driving traffic to the sales page is through paid advertising. Meaning, THEY'RE not going to pay for the traffic. You will.
But don't worry, with their proven sales funnel, you will almost certainly make more money in commissions than you spend on Ads.
But something doesn't add up here. Let me explain…
You Can't Lose???
---
99% of the time, these programs will fall into the "lifestyle selling" category mentioned above. The pitch may be done blatantly by doing a sales video while driving a Ferrari.
Or they may be more subtle about it, and casually mention the incredible vacation they went on (adding, "if you haven't been there, I highly recommend it.)
For example, programs like the The Six-Figure Mentors don't promise that you'll get rich… but the not-so-subtle implication is clearly there.
Other similar programs may make crazy claims, saying something like you'll earn $15,000 within 6 months. They may even guarantee it.
The question is… how much money WILL YOU spend to make that $15,000?
Will it be $1000? How about $2000?
Maybe $5000?
They're saying you'll get more money back than what you put in… which in itself isn't the problem.
It's that they tell you it'll be quick and that they've done most of the work for you.
In other words, they have a machine that prints money. What else can it be? You put a dollar in, and it spits out five?
For the sake of simplicity let's use some easy numbers.
If you were buying into a program with the hopes of replacing your income, and your goal was to earn $10,000 per month… how much would you expect to spend?
You cannot earn $10,000 with a $50 or $100 investment (the average buy-in for these marketing funnel programs).
Even if you spend 10K to cover the cost of the program and advertising, you'd have to double your money to 20K to clear 10K .
The internet is full of great opportunities… but double-your-money opportunities??? No…
They don't tell you upfront you'll need to spend "thousands" to earn thousands.
What they do is show you videos of Ferrari's, mansions, exotic vacations… and a limited time offer that's only going to cost you 50 or a 100 bucks to get in.
The Money Printing Machine
---
I can't highlight this point enough because it applies to so many scams out there.
To be clear… there are legit programs that will show you how to earn 5-figures or more per month… but the legit ones are long-term educational programs, NOT done-for-you systems that claim to be quick or easy.
To put it into perspective, let's return to our 10K per month example…
Since "10K in 2 or 3 years!!! is NOT a very great sales pitch, you'll be sold something like "10K in 60 days!!!"
Those are some pretty impressive numbers. The reasonable person knows this is going to cost more than fifty or a hundred bucks… but at the "point of sale" they still don't know exactly how much.
On the high-side, the average person may assume the REAL cost of this "done-for-you" proven system is probably in the ball-park of $1000.
So what does a $1,000 system that pays you back 10K in 60 days look like?
Well… we're talking about a machine that increases the value of your money by 1000 percent (or 10 times) within a very short period of 60 days.
Let's forget about 60 days and say you'll have to endure an entire 6 months?
For every one dollar you put in you get ten…
Are the richest men in the world capable of 1000% returns? Could Bill Gates put a billion dollars into something, and get ten billion out?
And why stop at 1 billion? Why not put 10 billion in and get 100 billion out?
As we drift back to reality here, the obvious answer is it'll take more than than $1000 to earn $10,000.
Even if you spent $5000 we're talking about a 200% return… but most people don't go into these things expecting to pay that kind of money.
More importantly, they don't tell you that you'll need that kind of money.
Even the best investors in the world rarely (if ever) get returns of 100%… especially after you add up all the investments that went bad.
And… if they did, you can be certain they're not going to package it and sell it online for a hundred bucks.
The Scam
---
And here's why the numbers don't add up.
If they really had this golden goose money machine, this "proven" done-for-you system, the obvious thing to do, would be to keep throwing money into it.
But that's not what they're doing. They're creating training programs, videos, webinars, and high pressure sales pages with countdown timers… to get YOU to throw YOUR money into the machine.
And that's the scam. Instead of making money, the machine loses money. But… in the process of losing money, you're still making a few sales here and there, and sending new members into the program.
At some point you quit, or run out of money… but by then, your advertising dollars have brought in half a dozen new people with the same hope of getting rich… and then they start paying for advertising.
Here's the best part…
The scam creators get all the benefits from your sales (new members), and they didn't spend any money on advertising. You did…
The only time they actually spent money (to pay out commissions) was when a sale was made. They've pushed all of their advertising expense, and all of the risk onto the people who bought and promoted it.
This graphic explains the scam.
8. The Use of Scarcity Tactics
---
The online world moves quickly. Grabbing someone's attention and keeping it for more than a few minutes (or even seconds) is tough.
Even legitimate marketers use scarcity to keep you on the page. They want you to perform an action that moves you closer to buying. When you believe something is limited or running out, you're more inclined to purchase it NOW.
Scarcity alone is not a sign that something is a scam. How it's applied though, can tell us a lot.
The use of scarcity to influence behavior is nothing new. It's the fundamental force that drives competition, which the entire economy is built upon. The market operates on the premise that there is not enough stuff for everyone.
In the physical world, this can be true.
But, in the digital universe, not so much. How scarce is a digital download? How does one run out of online information?
There are honest reasons for limiting access to things online. For example, personal consultation.
When it comes to scams however, scarcity is purely manufactured.
Weapons of Influence
---
One of the most highly-regarded books in the marketing world is called "Influence – The Psychology of Persuasion" by Robert Cialdini. Published in 1984, Robert describes 6 principles that he refers to as weapons of automatic influence.
Reciprocity
Commitment and Consistency
Social Proof
Authority
Linking, and…
Scarcity
Scarcity is used by everyone from car salespeople and real estate agents, to restaurants and grocery stores.
A good example is the "limited time only" menu item at your favorite fast-food restaurant (I'm talking to you Wendy, and your Bacon Portabella Mushroom Melt… that's the second or third time I've mentioned burgers in this article, and I don't even care for them that much 😀 ).
People in the "make-money-online" industry are experts at employing scarcity. NOT necessarily to be dishonest, but because it took a lot of market testing, promotion and even paid advertising to get your attention.
And none of that matters if they can't keep your attention, and turn you into a buyer.
They might be selling the greatest thing ever, but if you click the back button and leave (even with the intent of returning)… they know the chances that you'll ever come back are slim.
When Scarcity is Legit, and When It's A Scam
---
So, since both honest, and dishonest people use this strategy… how do we know what to look for?
Is It a Physical Product or a Digital Download?
Can you imagine iTunes having limited quantities of your favorite song?
In theory, a digital product can have unlimited copies. An online membership program can have as many members as there are people online.
If there is no physical product involved, then using the term "limited" is probably a scam.
There is an exception to this rule however, which is;
Does the product (digital or otherwise) include someone's personal time?
Membership programs may provide personal consultation or direct access to the person teaching the course.
In this case, it's understandable if spots are limited, or if there is a waiting list.
A person's time is obviously NOT unlimited.
Is the product location specific?
Although it seems like there's a Starbucks, McDonald's (and here in Canada… Tim Horton's) on every corner, at some point they need to put a cap on it.
However, in the online world, this is rarely the case.
It's probably a scam if the program claims to have limited spots open in your area. Stay clear of these.
The 2 exceptions however, as mentioned above, are when it involves someone's time, and when the sales territory could potentially get saturated.
If your sales territory is online (open to the entire world), then an urgent message like "limited spots in your (hometown)" is almost certainly a scam.
9. Beware of Geo-Targeted Ads
---
This one stands out like a sore thumb.
You click what appears to be a legitimate story, and you find yourself reading about a "single mom" with a dozen children who overcame unbelievable odds to build a life of freedom and independence. It's a heartwarming tale of triumph as she pulled her family out of poverty and is now making thousands a week online.
The best part is that she lives in your city. The headline read, "How a Single Mom In (insert your city) Went From Broke To Millionaire In 30 Days" or something like that.
This is geo-targeting. "If she can do it, and lives near you… then you can do it too."
Of course, she doesn't exist and none of it ever happened.
Unless it is a local (and legitimate) news organization doing a lifestyle piece, stay clear of these geo-targeted ads.
10. Don't Believe The Fake Testimonials
---
There's nothing wrong with testimonials. In fact, they're a significant reason to buy, or to not buy. When we read reviews on Amazon, Google or Yelp… it's the testimonial we're looking for.
And, because testimonials are so important, so valuable, scammers love to use (fake) them.
The phony ones are often written by one person, so the similar language and writing style can be a clear giveaway. I every comment uses the word "outstanding" for example, they're probably fake.
Admittedly, it's not an exact science… but if you notice a repetitive tone, the same use of words, etc. in each testimonial, there's a good chance they were written by the same person.
Check for poor grammar.
Some are horribly translated. They are supposed to be quotes from predominantly english speaking countries, but it's clear they are not.
Also, look for staged pictures.
While reviewing some scams, I have found that people in these testimonials have looked familiar. It's because the same picture (a stock image purchased from a photography site) is being used for multiple scams. Even the text is sometimes a direct copy and paste from some other rip-off.
If the person looks like a model, and the background staged, it probably is.
And then there are the video testimonials. Certainly those can't all be fake, right? Well, sites like Viral Bucks use paid actors to give the illusion of "proof".
This is how easy it is to get a fake testimonial. Head on over to Fiverr and search for "spokesperson video" and this is what you will see (minus the happy faces)…
So, although testimonials can be extremely valuable, with a keen eye and some intuition, you can often tell a scam from the real deal.
11. Check Out The Comments Section
---
Like fake testimonials, fake comments at the bottom of a web page are a dead giveaway that you've found a scam. The fake ones I see most often look like Facebook comments with a string of activity. They'll appear to be real people gushing over how great the product is.
However, if you click them and nothing happens, or you're taken to a different page, it's a scam. The comments are just a photoshopped image.
It should be noted that not having comments, does not indicate it's a scam.
Many popular (and legitimate) programs, blogs, membership sites, institutions, etc. don't include comments on their pages. Moderating comments and spam is a big task, not to mention responding to questions. Therefore, high traffic sites often stay away from them.
However, if you are able to comment, then ask a question. You can request information regarding additional upsells (after you create an account) for example, particular features, or a description of the process they teach.
A response may not come immediately, but waiting a day or two is better than giving up your credit card and account information to someone with ill intent.
12. Look For The Representing Name(s) or Face(s)
---
There are legitimate reasons for anonymity online, but not when selling a program or course.
Anyone who has put the time and effort into creating a course or membership program is proud of it. They want their name on it. They may welcome you personally, or even call or text directly.
If someone (or a program) is promising to fill your bank accounts with money, and there's no name or face representing it… just move on.
It's a scam.
Ways To Know When Something Is Legitimate
---
Now that I've covered what to look for in a scam, let's go over some indicators that point to a genuine product… and there some really good ones out there whether you're looking for legit work-at-home jobs and businesses, or online marketing gigs.
Most of these are really just looking for the opposite of the things you should avoid. But they are all worth mentioning anyway.
It Has A Strong Community
---
There's no better way to know if something is real or not than community involvement. If something is a scam, the owners will not want members (or customers) talking to one another.
On the other hand, if they encourage it, you can be confident that it's a legitimate program.
That doesn't mean it's the right program for you. If you're just starting out, for example, you may need step-by-step training, rather than advanced marketing methods.
I'd bookmark it though. As you progress in your online career or business, it might be exactly what you need 6 months or a year down the road.
An even better indicator that something is legitimate, is when the owner(s) are active participants in the community.
In my opinion, next to the quality of the training, the community is the most important thing to look for when joining a program. It will be your secret weapon to success.
Also, it's fun to be part of a community that shares your interests. One with people who have similar challenges, and members to guide you down a path they've already walked.
A REAL Free Membership Is Available
---
If a program offers a completely free membership (meaning NO CREDIT CARD), it's a good indicator you're looking at an honest organization. It means they're confident enough in their product to give it away or show you up front before you buy.
Program's with a considerable amount of free content, training and no-cost memberships are usually value driven first, with profit being secondary. These are the ones you want to be a part of.
But it's still important to talk to others in the community and mingle before choosing to upgrade to a paid membership.
And, be critical when you're a free member. Is the training any good? Can you get support or help when you need it?
If it's free to join though, it's worth it to check out. You never want to miss a potential opportunity that could change your life for the better.
The Process Is Described BEFORE You Enter Your Credit Card Information, Not After.
---
As already discussed, never join something that hides the entire process behind a pay wall.
You're not asking them to give away their best stuff for free. You just want to know the basic concept.
The good programs that teach online business will share strategies that may have taken years of trial, error, experimentation and networking to develop.
Creating these courses and programs takes a lot of time and money.
So, it's understandable that people will be guarded with what they offer as free content.
But that's not what you're asking. You just want the basic principles they teach. How to make money online is not a secret. If they won't even tell you that much, or what it is you'll be doing to earn money, it's a scam.
A legitimate program will provide some free training or a course outline before asking you for a credit card number. A great example is Brandon Gaille's program at the blog millionaire. If you scroll down to the bottom of the page, Brandon shows you exactly what he teaches in his course.
Plenty of Comments and Engagement
---
Again, as mentioned earlier, many popular sites with significant traffic stay away from comments because they are just too costly and time-consuming to moderate.
But, if you come across one that does have plenty of comments and user engagment, it's a positive sign. Spend some time to read through the comments, and ask a question or two. If someone encourages visitors to communicate on their site, it's a good sign.
Word of warning here. If you're just skimming over this article (which is understandable; it's a long one), you may have missed tip #10. Check to see if the comment section is real. Quite often they are just photoshopped images and do nothing when clicked on.
Has the Program Existed For Longer Than 5 Minutes
---
If a program has been around for several years or longer, you can probably trust it. Scams don't usually last for long. At least, not under the same name. Most of these scams run for a few months until people catch on, they are re-packaged under a new name and pushed out again.
Programs that have endured for years have done so for a reason. A great example is Wealthy Affiliate who still has active members going back as far as 2005.
When researching a product, check out when it was created.
Don't disqualify new programs, but if you're on the fence, age is one indicator you can look for.
Final Thoughts
---
This is the information age.
There's a lot of junk out there, but "WOW" … some incredible stuff too. The knowledge and experience we have available to us today is staggering, and I'm fascinated to learn what that means for humanity.
If you decide to sign up for a program, there's no guarantee that you'll get what you're looking for. But with a little research and attention to the key indicators mentioned in this article, you can chase online money making scams back into the corner, instead of having them chase you.
Please leave a comment below; I'd love to hear your thoughts. Have you run into any scams recently? What do you look for in a Make-Money-Online program?
If you found this article useful, or think it might be helpful for others… Please share. ????
Cheers,
Jay
Related Posts
---