Product: Rodan and Fields
Owners: Dr. Katie Rodan, Dr. Kathy Fields
Price: $45 (Purchase of Business Portfolio)
I must admit, with all the talk of this being a pyramid scheme, I thought Rodan and Fields would be a scam. But my first impressions have turned out to be good. Rodan and Fields has an active community and loyal following, a good indicator that it's not a scam. But is it the opportunity you've been looking for? Are the product claims legitimate? In this Rodan and Fields review, we'll dig deeper and find out.
Disclaimer:Please note, I am not a member or an affiliate for Rodan and Fields. This review has been researched with information and/or testimonials that are available online in the public domain. Any recommendations and/or conclusions are strictly opinions and may not to apply to, or agree with, all persons or situations. See full disclaimer for more info
Full Review
---
There are two parts to Rodan and Fields. The product line and the business opportunity. The business opportunity can be broken down further into product sales, and recruitment.
If you're here to find out if Rodan and Fields is a good way to make a part-time income, or even a full-time income, then you'll be interested in both the home-based business review, AND the product line. These are the products you (as a distributor) will sell, so they'd better be good.
Although I won't go into product specifics, we will have a look at what people are saying. I'm neither qualified (both my 12 and 9-year old daughters know more about cosmetics than I do), nor do I have personal experience with to say they're good or bad. But, from the discussions online, people seem to like them. You certainly have nothing to worry about if you're considering selling them (or using them).
What I do know about however are business opportunities, and this review will be looking at Rodan and Fields from that perspective.
The main topics I'll cover in this review are,
Who Rodan and Fields are, and what they do.
Are they a pyramid scheme, and is it a scam? (of course, this is the most common question)
The Rodan and Fields community, and what people are saying.
Will you make money as an independent consultant?
The realities of multi-level marketing.
My recommendations.
What is Rodan and Fields?
---
Rodan and Fields is a direct sales and marketing company that specializes in skin care products. It was founded in 2007 by Dr. Katie Rodan and Dr. Kathy Fields.
If you're new to Rodan and Fields, it will give you some comfort to know that Dr. Katie Rodan and Dr. Kathy Fields are the original creators of the acne skin care product, Proactiv Solution.
So, this is not a "fly-by-night" company, and the owners know a little something about business and skin care.
Who Is Rodan and Fields For?
---
If you've been recruited by a Rodan and Fields rep to join, you're probably wondering if it's for you.
Maybe you're an experienced rep with a team but questioning whether you should stick with it… and you're not alone.
That's because network marketing is hard.
I'm a persistent person but I've been there too. After two years in Amway pounding the pavement every day I had to accept it wasn't for me.
In those two years I didn't see a single "new" person succeed either. So how could I, in good faith, tell people they would succeed?
I couldn't tell them they'd be making big bucks if they only put the effort in. I was putting the effort in… and I wasn't earning big bucks.
I knew others who were putting the effort in too and following the plan…they weren't earning big bucks either.
So, to answer the question,"who is Rodan and Fields for?", it's for someone who is unbelievably committed, loves talking to people and is confident in their ability to help others succeed too.
There's no middle ground in my opinion (and my experience with Amway) and it's not something you can "try out" to see if it works. At least, it will be very very difficult to succeed if you just try it out.
If you want to succeed at Rodan and Fields (or any MLM) you'll have to be all in. That doesn't mean you can't join, check it out, meet new people and enjoy the experience. That level of commitment is where a lot of people are at, and there is lot of value at that level too.
And I should also be clear… it's not only MLM's. If you want to succeed at anything in life, whether it's your current career, being a great parent or getting into the best shape of your life… you have to go all in.
What If I'm Not All In?
---
If the commitment required to succeed at multi-level-marketing doesn't appeal to you, you're not alone. I went through that very same experience.
I can't remember how many times I sat in coffee shops trying to spark up conversations with people. I approached people at gas stations and in lines when buying groceries.
I spent hours at supermarket magazine stands looking for a conversational opening.
At some point though, I had to accept it wasn't for me. I'm just not that person. I don't want to talk to people all the time.
I like people and I don't mind being around people. I just hated putting that pressure on myself… feeling guilty if I didn't approach everyone as an opportunity to recruit them. I'm not saying that will be your experience. I'm just saying it was mine.
Here's the thing…
Some people have what it takes to make it in MLM's, I didn't.
And we didn't have nearly as many opportunities and alternatives to make money back then as we do now.
For example, today if you're just looking for some extra money, you can do it online with surveys on sites like surveyjunkie.com. You can also make money watching videos, searching the web and visiting websites with Inbox Dollars.
Of course you can't get rich that way. You can't compare online surveys with the potential an an opportunity like Rodan and Fields provides (for the right person)… but for some people… online surveys are where they are at. They're not ready for anything more and that's fine too.
But what if you really want freedom and independence?
The good news is, MLM's are not your only option. Again, there are more opportunities and alternatives today.
If you wanna' tell your boss that you're done with the bullshit, then creating a full-time income online is what you need in order to get what you want.
Now, I'm going to give you a free step by step beginner's guide to making money online and you can get it by Clicking Here
Is It A Pyramid Scheme?
---
That depends on your definition of a pyramid scheme.
Rodan and Fields is a multi-level-marketing company. Like Amway, Avon and Mary-Kay Cosmetics the real income comes from building a network of distributors below you. Your downline.
People involved in these businesses will passionately tell you it's not a pyramid scheme.
According to Wikipedia "A pyramid scheme is a business model that recruits members via a promise of payments or services for enrolling others into the scheme, rather than supplying investments or sale of products or services."
Does Rodan and Fields promise payments or services for enrolling others into the scheme (as defined by Wikipedia)?
No, they do not. They promise you payments based on the SALES made by others you enroll, but there are no direct payments simply for getting them to join.
So, according to Wikipedia… Rodan and Fields is not a pyramid "scheme". They are a reputable company and they operate within the guidelines set out by the Federal Trade Commission's Amway decision. 
Having said that, although not legally a pyramid scheme, as mentiioned a moment ago… whether you consider Rodan + Fields a pyramid depends on your opinion of pyramid schemes. They are definitely structured as a pyramid with uplines and downlines… and that's where the big money is. So, you can be the judge. .
If you're not comfortable with direct-selling and recruiting your friends, family and co-workers, there are other ways you can make money that do NOT include direct selling or recruiting.
As mentioned earlier… being in Amway and recruiting people at gas stations and supermarkets was not my thing.
And it's still not my thing, which is why I earn my income online today, and not in people's living rooms 😀
So there are other opportunities to making money in your spare time.
Is Rodan + Fields A Scam?
---
I have a quick checklist when reviewing "make-money" products. Most are unfortunately scams, but there are a few simple things you can look at to determine whether or not it's worth your time to investigate further. The three things I check first are,
Site Security
Proper Contact Information
Community
If all three are okay, we're off to a good start.
With a company the size of Rodan and Fields though, I wasn't too concerned.
Their website is exceptionally professional, and there is nothing "scammy" going on here. They use SSL (secure socket layers), which is just a geeky way to say your connection to their site is encypted and safe.
Their contact page includes everything from a physical address, to phone numbers and even the hours they're available, so all the contact information you would want is there.
It goes without saying that Rodan and Fields is a legitimate opportunity, and not a scam.
Next on my list is the community. If people are gathering online to say good things about a product or company, it's a good sign. And that's what I found here.
Rodan and Fields has a community that's both massive and passionate, with hundreds of thousands of likes and follows on various social sharing platforms. For a company whose sales reached $627 million in 2015, this is the kind of community you'd expect.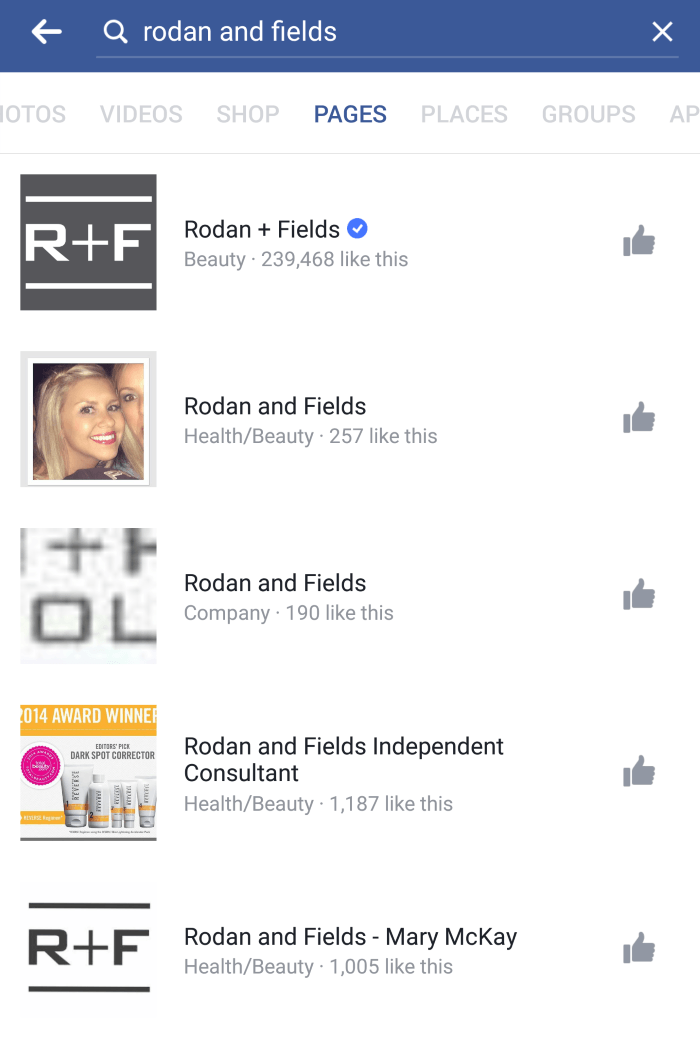 Just a few of the hundreds of Rodan and Fields Groups and Pages
What Are People Saying?
---
Rodan and Fields gets mixed reviews. They're not selling politics and religion, but skin care products and MLM's can also be controversial.
Most online conversations are about the products.
The vast majority are saying good things, but of course, skin creams (moisturizers, lotions etc.) affect each person differently. So, you can also find many upset individuals with poor results, and adverse side effects from using Rodan and Field's products.
However, the good comments by far outweigh the bad. Here's an example of both.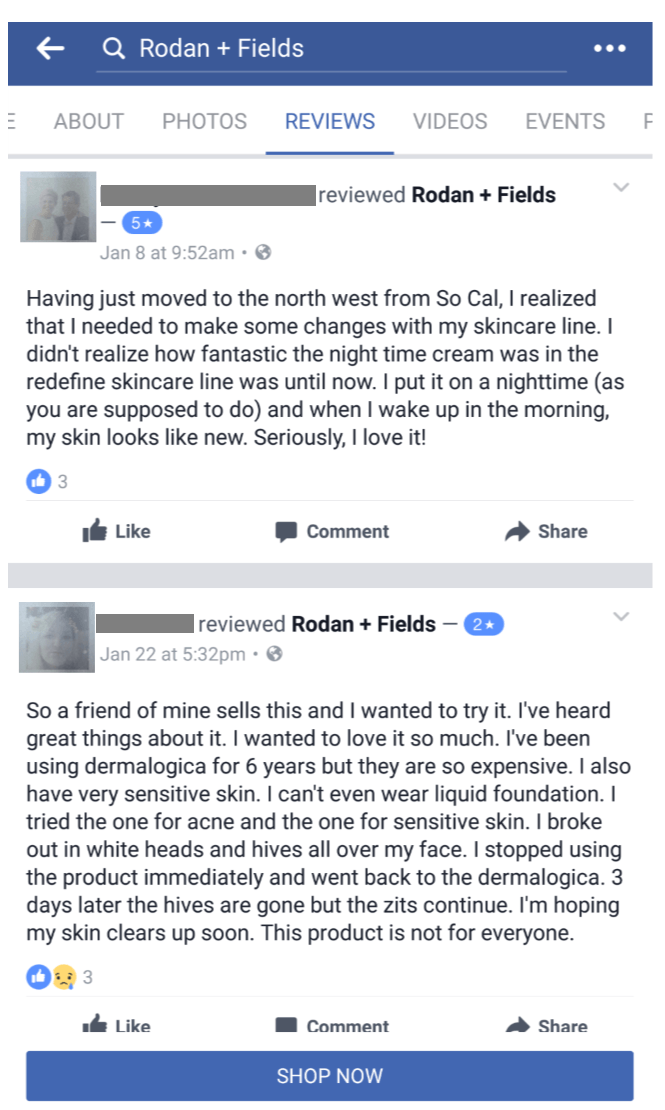 If you're thinking about selling Rodan + Fields products, you will be glad to know that most people are happy with them and you can be confident you are standing behind a company that considers quality and customers satisfaction important.
Home-Based Business Comments
---
Moving away from product discussions and onto the business side, you have upbeat and optimistic consultants on one hand and the annoyed and frustrated people who are tired of hearing about Rodan and Fields on the other.
It's the modern era of network marketing, and instead of prospecting face-to-face, thousands of hopeful entrepreneurs have turned to social media. They use Facebook, Instagram, Snapchat and all the other platforms to promote their products and recruit people into their downline.
It may seem easier than having to talk to people. Unfortunately, it also allows you to pi## them off faster, more often, and all at once.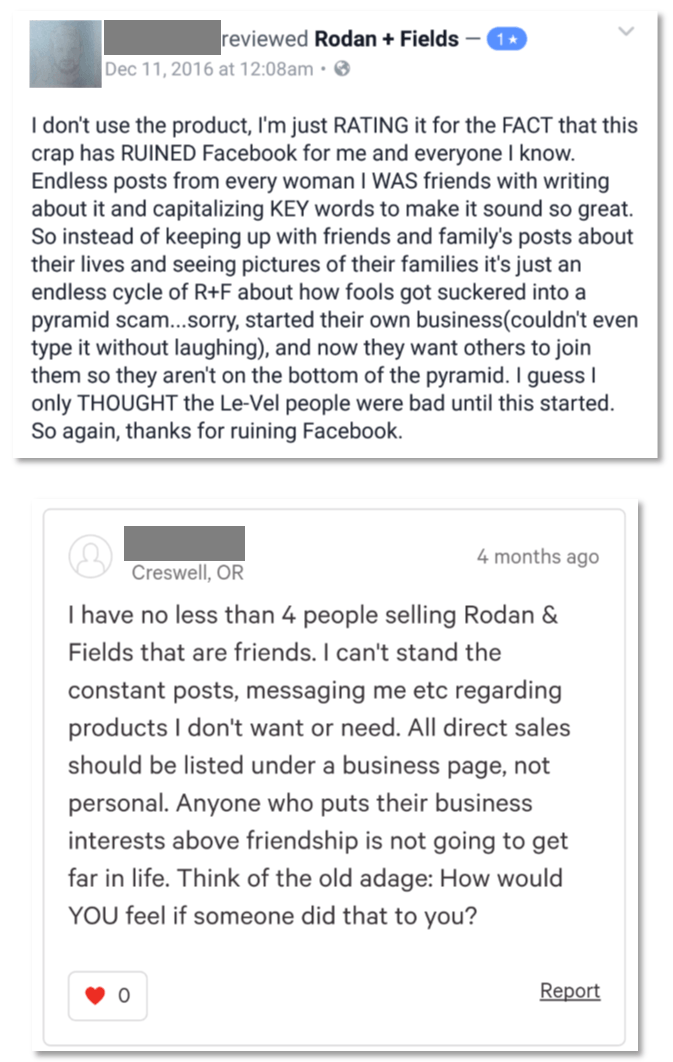 Social Media didn't exist during my era of pyramid schemes and legit MLM's. After I had hit up my family and friends, I hung out at supermarket magazine stands (I wasn't joking about supermarkets and gas stations) and struck up conversations with people.
I could only annoy one person at a time… not so today.
It's hard for me to believe that was 25 years ago.
Can You Make Money Selling Rodan and Fields?
---
Clearly, some people are making money and having success.
But, can YOU make money, and should you join Rodan and Fields?
That depends.
Do you have the personality for it? Is selling one of your strengths? Can you handle constant rejection?
The truth is, the vast majority of people never achieve anything close to the financial independence programs like these promote.
In fact, 99% who join an MLM will lose money.
Statistically speaking, if you want to make some extra money, you're far better off doing surveys on sites like surveyjunkie.com and inboxdollars.com.
No, they won't make you rich, but you will make some money and more importantly, you won't lose it.
If it's freedom and independence you're looking for but driving around at night and doing home parties doesn't appeal to you, consider an online business which is a more comfortable way to become an entrepreneur for many people.
That doesn't mean Rodan and Fields is no good, it just means that it's not a one size fits all… opportunity, nor should it be.
No career is one size fits all and no education is one size fits all.
MLM's are definitely NOT one size fits all.
Although they are legally not a scam or pyramid scam, due to the nature of companies that use individual distributors… some of the business practices are deceptive and not always fully controlled by the company itself.
Success in network marketing is not that promising. According to MLM research done by Dr. Jon M. Taylorof the Consumer Awareness Institute,
50% drop out within the first year.
90% leave the company before year five.
95% will be gone within a decade, leaving those few at the very top of the pyramid to keep recruiting more people.
That doesn't sound like the picture being painted by recruiters. They use terms like "financial independence" and "being able to have it all".
But, statistically speaking, most of the people selling the dream are no closer to it than you are, and with people dropping out at a rate of 90+ percent, even those at the top need to keep their entire organizations motivated and growing.
That's why MLM's rely heavily on motivational events and pep rally's.
The pyramid plan might not be a scam, but the sales pitch might be (in my opinion). On paper, the math works out, and if you recruit people according to the plan (and your downline does the same), you can become a top earner.
But that never happens. Even the best need to keep working on their downline, talking at events, helping their distributors to build their organizations…
They promote lavish lifestyles and residual incomes, while downplaying the time, the effort and unique circumstances required to achieve it.
During the recruitment process, you are presented with bio's of their biggest superstars, complete with family pictures and inspiring stories.
Like this one.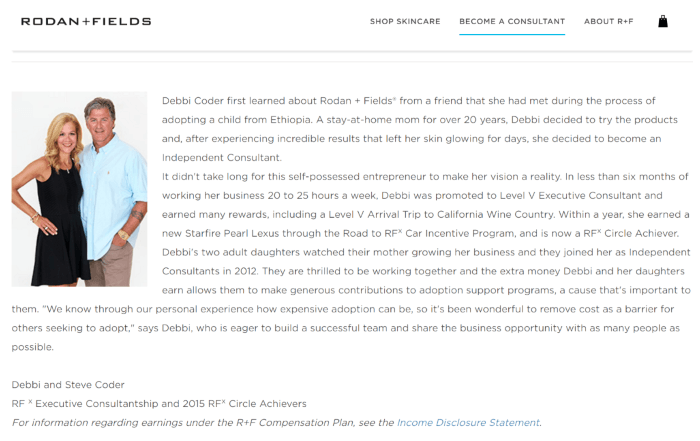 I don't doubt Debbi's story. In fact, if I met her I'd like to pick her brain and learn a few things.
And there are others just like her featured on the Rodan and Fields website. Again, I think there is a lot you and I can learn from their success. I believe they are sincere in their desire to help others.
Most have found success, according to their profiles, by working part-time hours for roughly 6 months to 3 years.
"In less than six months of working her business 20 to 25 hours a week, Debbi was promoted to Level V Executive Consultant and earned many rewards, including a Level V Arrival Trip to California Wine Country. Within a year, she earned a new Starfire Pearl Lexus through the Road to RFx Car Incentive Program, and is now a RFx Circle Achiever."
But what about the 90% who quit in the first 5 years?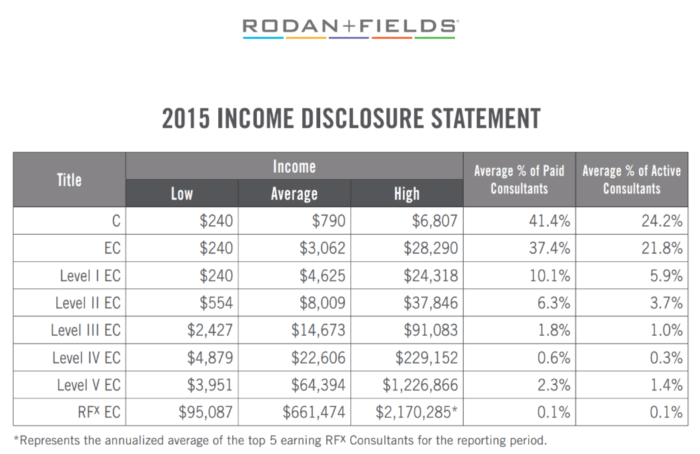 According to Rodan and Field's 2015 Income Disclosure, the average earnings of a Level III Executive Consultant was a whopping $14,623/per year. On the higher end (which is probably a small minority), you can expect to make just over $90,000. But ONLY 6.3% of paid consultants reach Level III Executive Consultant status (with an even smaller percentage taking home the high side income).
Another important takeaway from this disclosure statement, is the average income of a Level V EC is $64,394, and only 2.3% of paid consultants reach this level.
These numbers are consistent with Dr. Jon M. Taylor's research that 95% quit within 10 years, because 95% never make it over the "hump" and reach residual income status.
If you're only making 64K per year, and 90% of your recruits keep dropping out, it would be exhausting to constantly rebuild your downline.
I'm not suggesting $64K per year is insignificant. But these numbers are before expenses, and certainly won't afford you the lifestyle that's so heavily promoted by MLM's. And yet, that's the dream you will have to sell so people keep signing up, and the commissions keep flowing upward.
A 2016 Forbes article said this about Rodan + Fields… including at quote by Dr. Kathy Fields,
"The company's independent reps also sell the dream that any woman can easily achieve financial independence and success by becoming a Rodan + Fields saleswoman. This is an opportunity for women to have it all," Fields says.
"But the truth is that the dream is financially out of reach for the vast majority of women who sell Rodan + Fields products. According to data from its 2015 income disclosure, 42% didn't get a single paycheck last year."
I realize no one at Rodan and Fields has promised financial independence, and they only show what's possible (in a perfect world), but there's a deeper issue here.
The Devastating Effects Of (MLM) Failure
---
It takes tremendous motivation to keep your organization growing.
Being a 20+ year personal development junkie, I believe in motivation. But not like this.
You can't build someone up and get them hyper-excited about their dreams and goals without consequences.
Since the numbers (the compensation plan) make sense, and it's hammered into you that the system works, it must be your fault when it doesn't, right? Of course, no one is telling you that directly. They're not even in implying it…
It's just the nature of the system. If the math makes sense, why isn't working right?
That's a terrible burden to put on someone. But I get it. You can't market the opportunity by saying "you might make a little bit of money if you can handle a lot of rejection." Is there a middle ground?
The system is not designed for everyone to succeed. That's the nature of pyramid structured programs. But still, people blame themselves if they don't reach their goals…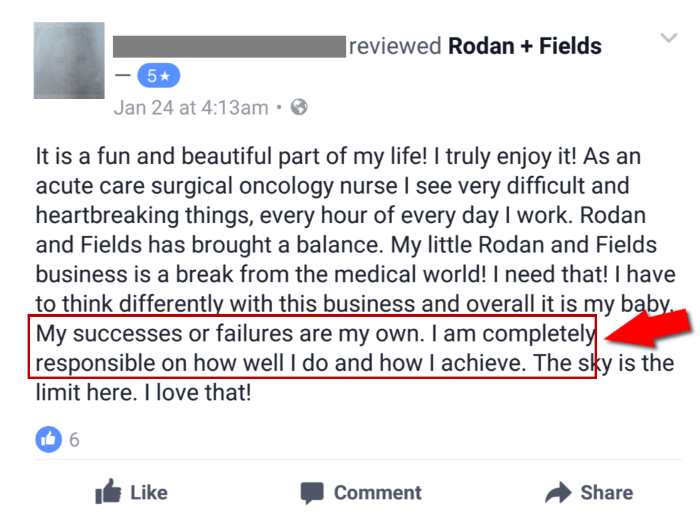 That's the real tragedy of these pyramid programs. Failure (especially when you think it's your own fault) has long lasting effects. But it takes a special kind of personality to succeed at MLM's. It's not your fault if you struggle.
Let's Talk About Success
---
The reason most people fail to make money with Rodan and Fields (or any MLM) is simple. Selling and recruiting requires a particular skillset, personality, and uncommon ability to handle rejection (over and over and over).
It's a simple fact that most people don't fit this profile.
Think of it this way. When you look at a packed audience during one of their events, how many would even make it past the resume stage to get an interview if they were hiring, instead of recruiting?
Also, many of the top earners start with existing networks. Some even have celebrity status.
Britney Spears' Mom is a Rodan and Fields consultant, as is Miley Cyrus' Mom. They have influence and reach the vast majority of people just don't have.
And even if some bizarre miracle happens and you get all the ingredients right, do you even want to be a Rodan and Fields consultant?
A lot of people will quit simply because they have lost interest in it.
Success is hard. If the things you do are inconsistent with your passions and your strengths, it's next to impossible.
Success is hard. If the things you do are
in

consistent

with your passions and your strengths,

it's next to impossible.

If you don't care about skin care products, and recruiting people feels like pulling teeth, how will you succeed at selling skin care products and recruiting people?

If public speaking makes you uncomfortable, how will you stand in front of your organization and inspire them?

Of course, you can learn these skills, but if it's something you hate doing, it's not sustainable.

To get to the top of an MLM pyramid requires high-energy selling, public speaking and the unique ability to sell and recruit. This is NOT most people, and that's why most people don't succeed at MLM's.
Next Steps…
---
So, if a unique personality and situation is required to succeed at multi-level-marketing, what do you do if you're strengths lie elsewhere?
If you don't enjoy sales and have no interest in selling to your friends, family and co-workers, you can still make money from home.
It just depends on what you want… If you're just looking for some extra spending money, the best low stress method I know of is doing simple surveys online. Survey Junkie and Inbox Dollars are two the best ones I recommend.
You won't achieve freedom and independence with surveys, but for some people they are the perfect "first step" to get a taste of making money online.
But what if you're ready for something more?
MLM's are an option that won't be going away any time soon, but you must ask yourself the right question.
Is it a lifestyle with passive income and less stress I want…
… or is it the status of being a top salesperson and recruiter? Of getting up on stage one day and being looked at as a role model.
Because those are two very different goals.
If you like to be out there selling, making deals and talking to people, Rodan and Fields might be what you're looking for. You can sign up as a consultant here.
If passive income with less stress is what you want, you'll probably be more comfortable at home building an online business.
Final Thoughts…
---
I believe success (however you define it) is attainable for everyone. But to achieve it, you must be in-sync with your strengths and your passions.
If you're an introvert, you're best chance of success is with a laptop and a coffee.
If you're an extrovert, shaking hands and taking names over drinks is probably your game.
Now, if skin care products are your passion, and you're really good at (and enjoy) direct selling and recruiting I absolutely recommend Rodan and Fields. It's a professional organization, their products are successful, and they are a giant among giants in that industry.
Dr. Katie Rodan and Dr. Kathy Fields are authorities in their niche and having celebrities involved will help when prospecting.
If your goal is to sell a few products to pay for your own purchases, or even to make a little part-time money, they are also a good choice.
But if your passions and strengths are different than those required to succeed at Rodan and Fields, an online business would be my recommendation.
Please leave a comment below: I'd love to hear your thoughts. Do you have experience with Rodan and Fields, or MLM' s in general? What do you think the pros and cons are?
If you found this article useful, or think it might be helpful for others… Please share. 😀
Cheers,
Jay
My

Top Recommendation

For Making Money Is Online
---
If multi-level-marketing doesn't appeal to you, then making money doing surveys on sites like surveyjunkie.com and ​​​​inboxdollars.com might be a better quick fix option.
If you're ready to take on the world and become an entrepreneur you can follow the exact 4-step formula I used to build an online business and make money online.