SavvyConnect will pay you to surf the web. Survey Savvy on the other hand will pay you to complete surveys.
If it sounds too good to be true, that's what I thought too. Survey Savvy seems legit, but paid to surf the web with SavvyConnect? It has to be a scam, right?
But, it turns out, both are legit, and you can make money with both.
But that doesn't mean it's a good idea. SavvyConnect is a software you download and install on your computer and devices. In my opinion, despite its promises of easy money, it's a potentially invasive program with some serious privacy issues.
In this SavvyConnect and Survey Savvy review, I'm going to explain what they do, how they work and go over some of the potential issues you must be aware of.
Product:
SavvyConnect and Survey Savvy
---
​Owners:
Luth Research
---
​Cost:
Your Private Information
---
My SavvyConnect and Survey Savvy Review
---
Disclaimer:
Please note, I am not a member or an affiliate for SavvyConnect or Survey Savvy. This review has been researched with information and/or testimonials that are available online in the public domain. Any recommendations and/or conclusions are strictly opinions and may not to apply to, or agree with, all persons or situations. See full disclaimer for more info
SavvyConnect
---
Let's start with SavvyConnect…
SavvyConnect is a potentially invasive software that connects you to third party online market research companies. The software is designed to monitor your internet activity and your search behavior. The purpose is to provide information so these research companies can better understand what people are doing online.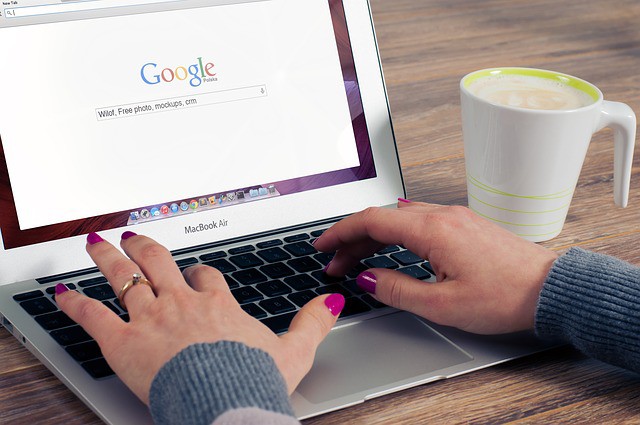 I can't speak to your comfort level when it comes to sharing personal information and browsing data, so my hesitation to recommend SavvyConnect is because it's probably not for everyone. I'll get more into those reasons below, but here's a quick summary of some issues mentioned by others.
People report that the installed software slows their devices down, reduces battery life and eats their data.
Reports of poor customer service, non-responsive at times and issues with payments.
Installed software's purpose is to track you (for the purposes of market research) which brings up serious privacy concerns.
From a strict marketing point of view, monitoring your internet activity is relatively harmless. And, it's completely voluntary, and those who install SavvyConnect do so with this understanding.
So, I don't have any issue with what SavvyConnect does, or how they do it. They're a market research company, and in theory, your information should never be used in negligent or harmful way.
In addition, SavvyConnect claims to respect your browsers privacy (or incognito) modes so if you want to surf online without being monitored you can do so.​
While I personally wouldn't risk privacy in this way, or voluntarily install something for the purpose of monitoring, the other reason I don't recommend SavvyConnect for some, is simply due to performance and technical issues. The software slowing down your computer for example.
If they were paying out thousands of dollars per month, it would be a lot easier to overlook these issues but for "coffee money" I'm not sure it's worth the inconvenience.
Survey Savvy
---
As SavvyConnect collects data about you, you will get the opportunity to participate in surveys that are also related to online behavior.
The Survey Savvy website says there are no guarantees as to how many surveys you will be invited to participate, so while there is money to be made, it's not the best method of earning an income online in my opinion.
Having said that, if you've never made money online before, online surveys can be a great way to get started.
Like all paid survey companies, Survey Savvy market research depends on accurate and relevant answers, which means you need to have some relation to, or experience in the survey topic.
Unfortunately, you will have to answer questions to determine your eligibility and as a result, you can end up spending a lot of time that you won't be paid for.​ Again, this is not specific to Survey Savvy. It's something all online survey companies have to deal with to ensure the data they collect is accurate and relevant.
A second way to make money with Survey Savvy is through referrals.
It's a multi-level marketing component that is downplayed on their website. SurveySavvy calls it a their "patented" referral system, but you can be the judge. It works like this.
You get incentives when you complete surveys
You get incentives when your direct referrals complete surveys.
You get incentives when the referrals your direct referrals made, complete surveys.
Is Survey Savvy A Scam?
---
I'm not referring to the SavvyConnect software here, or whether or not they are an established (and legit) company that pays you for sharing your opinion.
What I'm referring to is the opportunity that online survey companies have to take your information, but not pay you by telling you after you take it, that you do not qualify. There is no proof of wrongdoing by Lund Research, and I personally don't think there is a scam going on here.
But, it's easy to see why people would make such an accusation when they spend so much time answering questions, only to be told they don't qualify. Naturally, it's curious whether or not Survey Savvy is still getting paid by their client, but not passing that onto the survey taker.
Here is one such complaint from the Better Business Bureau.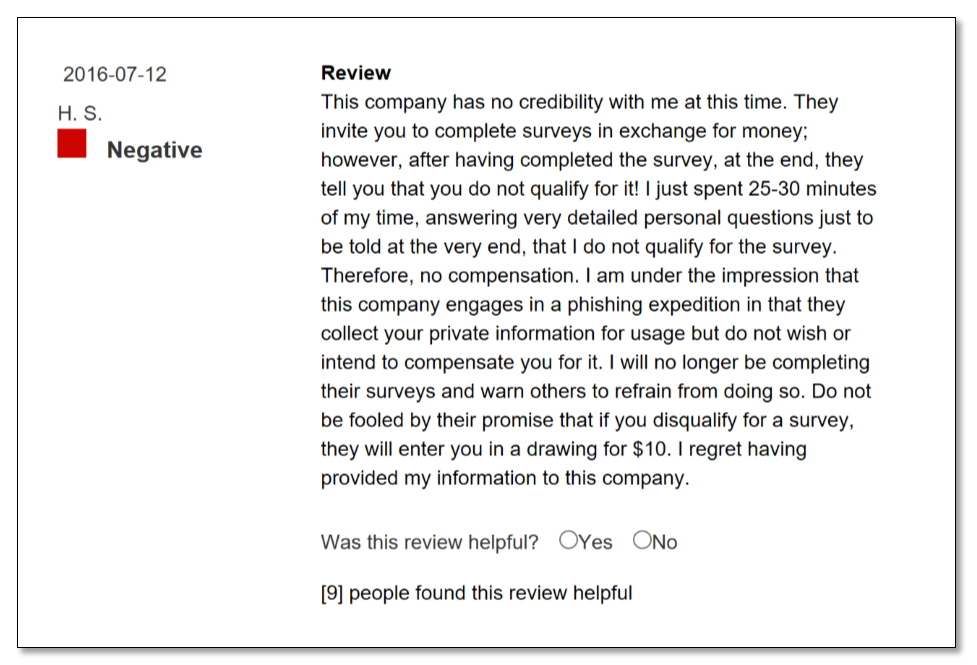 How often does this happen, and what you can you really do about it? There's no way of knowing if you don't belong to the demographic they're looking for, or if they're just keeping a little extra money for profit.
SurveySavvy did have a response for the above complaint which I find to be a fair answer.
They claim that, all surveys have screener questions to determine whether a respondent matches their clients' criteria and fits into an open quota group for that particular survey.
If you don't match their client's demographic criteria or fit into the open quota group based on your answers during this screening section, you will not be asked to complete the survey.
How long does it take to answer these screener questions?
In the comment above the person says 25-30 minutes, but this is not unlike many of the other top online survey sites out there.
How Does SurveySavvy Pay You?
---
Payments are made by check in US dollars and mailed out to you.
SavvyConnect Customer Complaints
---
There seems to be no shortage of complaints regarding SavvyConnect and SurveySavvy. As mentioned earlier, most complaints have to do with the software causing technical issues with computers and devices.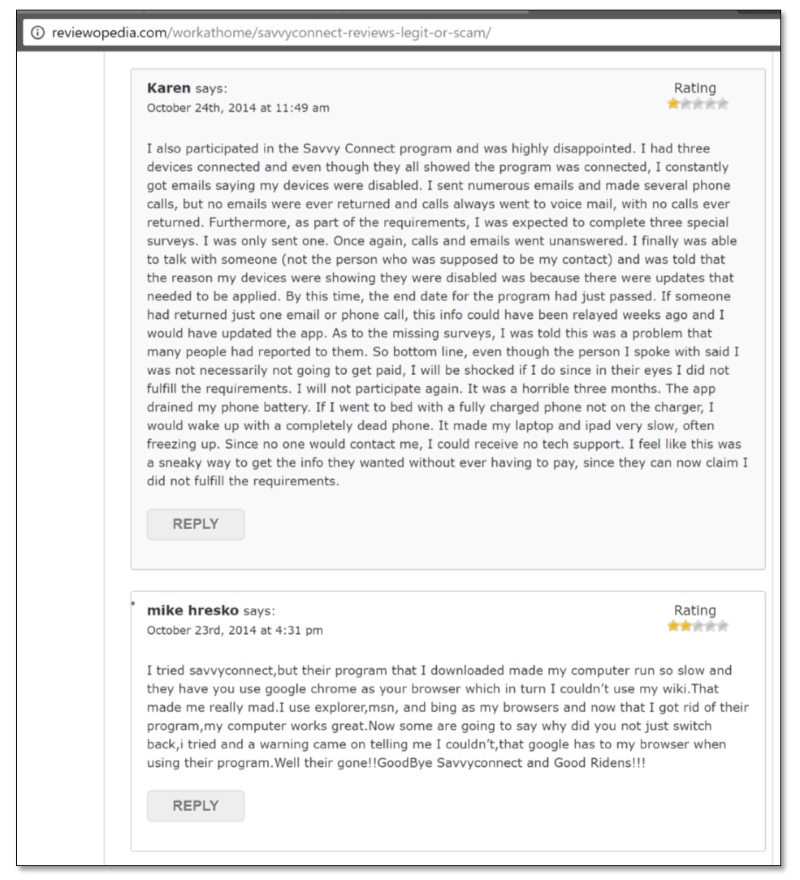 I also noticed some complaints about poor customer service and SavvyConnect not sending payments. Many of the payment issues seemed to be related to technical challenges (when SavvyConnect couldn't confirm that the software was installed or active on the participant's device). It's impossible to comment on the validity of these complaints.
The reviews at the Better Business Bureau are a mix of positive and negative with some being relatively neutral.
Technical Issues
---
When installing any software or app, you run the risk of it conflicting with other programs. This is particularly true of software that's potentially invasive like SavvyConnect.
For example, banking sites and apps don't work well with software that's collecting your personal information.
Additional issues are similar to those you get with any app. I've had them, and I'm sure you have too. Apps that drain your battery life, use up your data and even cause your phone, tablet or computer to crash completely.
Again, this is NOT a simple software program with a limited scope (such as a game or news reader). It monitors your activity, so it must interact with multiple systems.
Privacy Concerns
---
For the small amount of money you would receive from SavvyConnect, I wouldn't put my privacy and my computer at risk. How much information they're extracting from you… who knows. They tell you it's anonymous, but unfortunately, there's no real reason to trust them.
There is a big incentive to pull more information from you since they're in the business of selling it. At the very least, it's not worth the risk in my opinion.
An argument can be made that we give up our privacy to companies like Google and Facebook as well, so what's the difference here? Only you can decide whether or not you're comfortable with letting another company in.​
Pros and Cons
---
Pros
SaavyConnect has been around since 1999 (software since 2009), and parent company Luth Research has been in business for over 40 years. That's extraordinary in today's world and a big positive here.
Luth Research is BBB accredited.
People are earning money using their software, so to be clear, my hesitation in recommending it is not because it doesn't work. It's just that it may not be for everyone.
No real effort on your part (except the possible frustration of a slower device or computer).
Cons
Have to install invasive software onto (into) your devices and computer.
Reports of Poor Customer Service.
Better Business Bureau complaints of bounced and fraudulent checks.
Being disqualified for surveys can occur AFTER you've spent the time to fill them out (This is NOT specific to Survey Savvy, it occurs with most online survey companies)
The payout is relatively small for the potential risk and privacy you're giving up.
Final Thoughts
---
While SavvyConnect and SurveySavvy are not scams, as I mentioned above, I hesitate recommend them. Or at least… I hesitate to recommend the SavvyConnect software. I have no issue with SurveySavvy on it's own.
There are opportunities out there with higher earning potential, that's true, but if you've never made money online before, surveys can be a simple and fun way to do it.
​Of course they don't pay a ton of money. Easy money seems to be what everyone is looking for, but having reviewed hundreds of make-money systems, programs and sites like this… I can tell you, easy money is a myth.
If a you're looking for a more significant income, an online business may be something you're after.
You may be at home with children to look after or have challenges with your health. Or maybe you're just sick of your job.
If that's the case and a full-time income online is what you want, knowing how and where to get started is what you need in order to get what you want.
Now, I'm going to give you a free step by step beginner's guide to making money online and you can get it by Clicking Here
I hope my SurveySavvy and SavvyConnect review has been helpful and if you have any comments, questions or experience with either, please share in the comments section below.